Chicken Soup® for the Woman Golfer's Soul
Compiled by Jack Canfield & Mark Victor Hansen with Patty Aubery, and Matthew E. Adams
Kathryn Beisner's poignant essay, "Out of the Rough," is just one of the inspiring stories readers will enjoy from women golf legends, enthusiasts, and those who love them! You'll find how the great game of golf helped female executives, professionals, and moms experience the thrill of victory, on and off the course. This is the perfect gift to fit any woman's golf bag, whether she is a beginner or on her way to the Hall of Fame.
I love the "Chicken Soup" book! The story on your mother and golf was wonderful. I'll read it cover to cover.
-- K. Combs, Alabama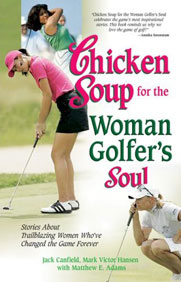 Price $14.95
Item: CS-WGS
Softcover