Ordinary Women with Extraordinary Spirit!®
Ordinary Women with Extraordinary Spirit!® Written and performed by motivational
speaker and writer, Kathryn Beisner. Perfect for that daily commute, a soak in the tub, or entertainment the entire family will enjoy...
Bessie Coleman was cruising along at about 80 MPH when suddenly, the plane accelerated to 110 MPH! A moment later, 1000 feet up in the air, the plane nose-dived and went into a tailspin. The aircraft flipped and...(story excerpt)
About the Audio Book: Ordinary Women with Extraordinary Spirit!®

* Running time: approx. 60 minutes on audio cassette
* Program content: Motivational speaker Kathryn Beisner deftly weaves the listener in and out of the history and adventures of women aviators, baseball players, and rodeo cowgirls of the early 1900's. You will hear the stories of such women as Bessie Coleman, the first African-American pilot to earn an international pilot's license and the first black woman in the world to fly an airplane. She'll bring you soaring into WWII where the Women Airforce Service Pilots (WASPs) contributed to our national war effort.
Beisner will take you back to the turn of the century where world renowned Bloomer Girl pitcher, Maud Nelson, is a legend during the early years of women playing baseball. Playing through time, you'll cheer with the crowds of the hometown fans during the 1940s and the years of the All American Girls Professional Baseball League (AAGPBL).
Meanwhile, back at the ranch, ride into Mile City, Montana in a (forbidden) divided skirt with Evelyn Cameron in 1895. Or ride a bucking bronc with Bertha Kaepernick in the very first Cheyenne Frontier Days rodeo in 1897. Hear the excitement of being an early rodeo star throughout the years.
Digitally mastered and duplicated on high bias/chrome tape for long-term, quality playback performance.
Artfully highlighted with music and sound effects to enhance the listening experience.
J-card cover is in full color, displaying a beautiful collage of historical photographs.
Inside the J-card is a valuable bibliography of references used to research the program so that the listener can read more about these women. A program time-code list is printed for convenient content searches. A brief biography on Kathryn Beisner is also included.
Wholesale price points vary depending on terms and quantity agreed upon.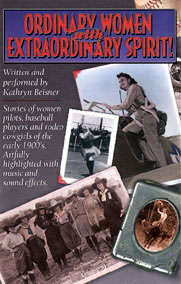 Price $9.95
Item # OWCAS2750
Audio cassette
Listeners all across the United States and Canada speak out about Ordinary Women with Extraordinary Spirit!®
A fascinating performance piece, complete with music and sound effects!
-"The Second Story Review," Canada
In 60 entertaining minutes Beisner manages to include an incredible amount of detail about some of the women
that do not appear in most history books!
-"Out Front Colorado"
I listened to your tape about 'Ordinary Women' and I loved it! I would be happy to endorse it to anyone, male or female, young or old who wants to be inspired and uplifted. This is the story of what's possible
when a strong woman sets her sights high!
-KM Productions, CO