Welcome!
We're glad you joined us for some KBS News & Tidbits. This page is our virtual communiqué where the content changes on an irregular basis. On one visit you may find the latest KBS news, a calendar of events, or a new product release. On another visit you may be treated to a theater review, a women's history highlight, or photos of a recent KBS Productions adventure!
We hope you'll enjoy this page and visit often. Comments and suggestions may be submitted by clicking on "Request Information" and filling in the Questions/Comments box at the end of the form.


Did you know... (little known, but interesting, facts)
Woman Golfer's Book Scores an Eagle!
Sprint PCS Celebrates
Self-Esteem: A Ticklish Subject
A 60th Celebration in Cooperstown!
Rafting the Grand Canyon
Say, "I Can"sm Keynote for Career Day
"Speaker Urges Women to Tap their Passion"-Media Reprint
"Slippery Slope" a personal essay by Kathryn Beisner
Complimentary Event Planner Checklist


That when British expatriate Evelyn Cameron went riding into Miles City, Montana in 1895 the sheriff threatened to arrest her for wearing a divided skirt? This pioneering effort was the first step in changing the costumes that rodeo cowgirls wore. Ms. Cameron grew up amid all of the comforts of late Victorian England, but loved the hard work of ranch life of the American west. Cameron roped and branded cattle, broke wild horses, and dehorned calves. She is a 2001 inductee into the National Cowgirl Museum & Hall of Fame. Evelyn Cameron may be best known and remembered as a premier photographer of early pioneer life. Her prolific diaries and striking photographs, published extensively during her lifetime and posthumously, provide a unique window on early ranching and homesteading life in the Western U.S..

Woman Golfer's Book Scores an Eagle!
Writer Kathryn Beisner and her assistant are happy about book sales at women's golf events!
Many ladies' golf leagues invited contributing author Kathryn Beisner to sign, sell, and read a few entertaining excerpts from the popular 2007 release of Chicken Soup® for the Woman Golfer's Soul book. Having the books available for sale lent a festive element to the golf season's special events.

Beisner with the director (CR), a team leader (R) and an assistant (L)
in the Customer Care Division
Sprint PCS engaged Kathryn Beisner for two motivational presentations celebrating the accomplishments of the Customer Care division over the last year, and preparing for goal setting for the coming year. Highlights of the program included accountability, taking responsibility, and the value of team leadership.
Self-Esteem: A Ticklish Subject
Kathryn Beisner was invited to present a workshop at the Women's Success Forum, attended by 600 executives and business leaders. The annual event is hosted by the Women'sVision Foundation and has been held in different cities around the country in the past.

Beisner's seminar, "No Guts, No Story! Self-Esteem at Work," included a spirited demonstration of not-so-subtle workplace behaviors that left everyone in the room laughing. The goal was to show that supportive behaviors strengthen self-esteem, which in turn influence productivity and performance in the workplace.


Kathryn provided a simple yet strong, easy guide to take the information back to work and apply the knowledge.
-D. Peter, Time Warner Cable, Manager, Financial Operations
A 60th Celebration in Cooperstown!
Kathryn Beisner joins a few All American "Hall-of-Famers" for their anniversary festivities.
On the steps of the National Baseball Hall of Fame, the All American Girls Professional Baseball League was honored for their 60th anniversary on September 12, 2003 in Cooperstown, NY. The AAGPBL played from 1943 to 1954, as portrayed in the movie "A League of Their Own."
All 600 members of the League were inducted into the National Baseball Hall of Fame in 1988. Beisner features the adventures of these women in her audio book, Ordinary Women with Extraordinary Spirit! ™
Rafting the Grand Canyon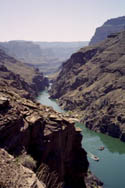 Did you ever wonder what motivates a motivator? In 1988 Kathryn Beisner took her first trip down the Colorado River, as it roared through Grand Canyon. Beisner exclaims, "It changed my life!"
In 2000, Beisner camped 300 million years ago with the Grand Canyon Field Institute on an eight-day raft through upper Grand Canyon; and then again in 2003 for another 18 days and a full 226 miles. Each expedition studied the history and folklore of the Canyon with geological and naturalist experts, and a bounty of adventures.

Contact KBS Productions to book an engagement with Kathryn for a motivational presentation, featuring stories, inspiration and what can be learned from one of the grandest landscapes on earth. It just may change your life!
Say, "I Can"sm Keynote for Career Day

Kathryn bids farewell to the girls after a great day!
Due to its terrific success, the Estes Park, CO community and schools, in partnership with the Newcomers of Estes Park and the Women's Foundation of Colorado hosted its second annual Career Day for eighth-grade girls. Throughout the day the young women learned about diverse career choices from local professional business women. Kathryn Beisner provided the wrap-up keynote with an invigorating presentation of Say, "I CAN!"sm.
"Speaker Urges Women to Tap their Passion"-Media Reprint
In October around 600 attendees gathered at the Antlers Adams Mark Hotel for the annual luncheon of the Women's Foundation of Colorado- Colorado Springs. Kathryn Beisner delivered an inspired and entertaining keynote highlighting stories of Ordinary Women with Extraordinary Spirit!™ and encouraging women to embrace their passion as we enter the new millennium.
Click here to enjoy the entire article reprint from the Colorado Springs Gazette. (Adobe Acrobat Reader® required)
"Slippery Slope"
A humorous, personal essay by Kathryn Beisner with a little Colorado history thrown in! Published in The Motorist Magazine, January, 2001.
(Adobe Acrobat Reader required)
KBS Productions
Kathryn Beisner, Speaker/Writer
Cyn Hales, Management/Bookings
13395 Voyager Pkwy
Ste 130 PMB 481
Colorado Springs, CO 80921
Phone: 303-469-6866
E-mail: info@kbsproductions.com
Meet Your Speaker | Areas of Expertise | Books, Tapes & Beyond
News & Tidbits | Say, "I Can" | Our Favorite Links | Home
The contents of this site are Copyright ©1999-2023 KBS Productions All Rights Reserved